SRI SRI BIJOYKRISHNA ASHRAM RELIEF SOCIETY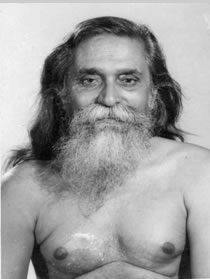 Swami Asimananda Saraswati
Sri Sri Bijoykrishna Ashram Relief Society was established during the great famine in Bengal in 1943. Swamiji had direct inspiration from his Guruji, Kiranchand Darbesh. He started a free kitchen for poor people. At that time, Mr Omar, Deputy Commissioner of Purulia, was surprised to see this free kitchen at Ramchandrapur Ashram. He wrote a letter to the Bihar Govt. expressing his surprise. He mentioned that there were many rich people in the District, but nobody came out to help these poor people. A penniless great man came out to help these poor people without any financial strength or stability.

Swamiji thus came forward to establish Sri Sri Bijoykrishna Ashram Relief Society in the year 1943 with the objectives to stand by the side of the afflicted and distressed humanity. A noble and compassionate soul, Swamiji was born to renounce everything for the sake of the needy and the handicapped. His sermons like "The more you will sacrifice yourself for the welfare of the universe, the more you will realize the splendour of your own self in the universe. You will then feel no difference between yourself and he universe. You shall have become at one with the universe"-were ample evidence of the direction of his mindset. Surprisingly, the same person used to stand absolutely firm and resolute to face the challenges of life for upholding human values. The combination of such polar characteristics in him created a magnetic effect drawing people from all walks of life to throng in love and respect towards him.
Swamiji had kept his life at stake while joining the great National movement and also had to sustain inhumane tortures by the then British rulers. Those ordeals, however, brought a great fortune to him, as he then became a close associate of Netaji Subhas Chandra Bose. Once in a set programme, Netaji attended a series of meetings in Manbhum District with the accompaniment of Swamiji in 1939. Accordingly, Netaji moved in a car with Swamiji when a man suddenly fell-down in 'front of the vehicle. In his attempt to embrace the man, Netaji found him to be blind which spurred him to utter instantly in a helpless tone, "Annada, can't we do something for these unfortunate people?" The utterance of Netaji brought a cascading effect in the ever compassionate heart of Swamiji and he, in his inner mind, vowed instantly to do something positive for those people.
in the year 1953 Swamiji initiated a Free Eye Camp at his village Ramchandrapur, Dist. Pu:rulia for conducting Eye surgery. Within a short period, it was converted into a 10- bedded seasonal Eye Hospital and christened the same as Netaji Eye Hospital, As a Founder, Swamiji had put in his consistent efforts to develop Netaji Eye Hospital until his sad demise in the year 1968, when this seasonal Hospital had 100 beds. With all his good wishes he went on establishing one welfare Institution after another:
NETAJI EYE HOSPITAL
ALL INDIA BLIND WELFARE WEEK
SRI SRI BIJOYKRISHNA BIDYAPITH
DARABESH HOMO EO DATABYA CHIKITSALAYA
SRI SRI DARBESH BIDYARTHI BHAWAN
Other allied organisations grew over the years :
SRI SRI BIJOYKRISHNA SEVA KENDRA ' Orissa
SRI SRI BIJOYKRISHNA SEVA KENDRA Bardhaman
ASIMANANDA SEVE KENDRA, HOOGLHY --.
ASIMANANDA SEVA KENDRA, SHEORAPHULY
ASIMANANDA SEVA KENDRA, RANABAGPUR Dt. Hooghly
SRI SRI BIJOYKRISHNA SEVA PRATISTHAN, NETAJI EYE HOSPITAL (PROPOSED) KOLKATA