NETAJI EYE HOSPITAL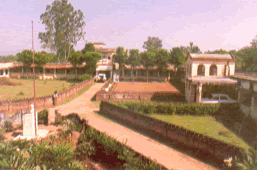 "Annada, can't you do anything for these unfortunate people?" - Netaji asked Annada Prasad Chakrabortty (the pre-Sannyas name of Swami Asimananda Saraswati), tears rolling down his cheeks, as he picked up and embraced a poor old blind person, who in deep darkness of the night had fallen down on the street in front of their car. The year was 1940. Amidst the ongoing freedom struggle against the British rule, Netaji accompanied by Annada Prasad were traveling to Adra Railway Station to catch a train for Calcutta after attending a number of political meetings in Manbhum District (now Purulia district) of West Bengal. That had sown the seeds in the benevolent heart of Annada Prasad - Swami Asimananda in subsequent life, which germinated in 1953 with the organization of winter Cataract Eye Operation Camp for 15 days with the help of Bihar Govt. and Patna Medical College when Swamiji was a M.L.A. of the Bihar Assembly. After that, in 1954-55, when he found that the patients who were treated there were not getting proper after-care, He decided to establish a small 10-bed eye care centre at Ramchandrapur Ashram, Purulia, to run for 3 months from January to March 1954-55. For the rest of the year He organized a weekly Camp for treating eye and other medical problems. From 1964 this Eye Care Institution was transformed into a 100- bed Eye Hospital, for 3 months only, during the winter season from January to March. After the demise of Swamiji in 1968, it became a full-fledged hospital with Eye, Maternity & Gynaecology departments in the year 1970-71, as per His last wishes. Due to non-availability of facilities & Gynaecologists, the Maternity Wing of the hospital had to be closed down in 1995. Subsequently, it became totally dedicated to eye care.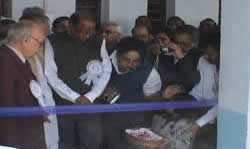 This hospital has now blossomed into a 250 bed specialized Total Eye Care Centre, serving thousands of eye patients in Eastern India, partially free of charge, throughout the year, in tune with the dreams of Swamiji.
An Eye Bank & Cornea was opened on 16th February 2007.
By Dr. I.S.Roy
The Kolkata Hospital Project on the land leased by the Kolkata Municipal Corporation at Shakuntala Park, Kolkata, and the foundation stone has been laid 2007.
Infrastructure, facilities and services of the hospital

The Society as well as .the Hospital is governed by an Executive Committee formed as per its Constitution with the assistance of qualified & competent Ophthalmologists, Physicians, Managers., Ophthalmic Assistants~ Nurses, Technicians, O. T. Assistants, Pharmacists, maintenance Staff, House-keeping Staff, Cleaning-Sanitation Workers, Drivers., Security Staff, Outreach Field Workers, Supportive Staff in different fields.
| | |
| --- | --- |
| | |
| VIEW OF NETAJI EYE HOSPITAL | REG. AND OPD BLOCK |
Out- Patient Department
(Handling capacity of Out Patient Dept - 1000 patients per day).
Registration Counter opens at 7.30 A.M. and closes at 12.00 noon. There are separate counters for new, review and admission cases. All patients are issued, separate I.D. cards with M.R. Nos. for future references.
Medical Records of all patients treated in the hospital OPD, IPD & O.T. are kept systematically. The total system of recordkeeping has now been computerized.



Vision and Refraction is done by trained & qualified staff. There is also facility of AUTO-REFRACTOMETER.
Patients are examined by qualified and trained ophthalmologists with the aid of various instruments and apparatuses viz., Slit Lamp, Bio-Microscopy, Direct Ophthalmoscopy, Indirect Ophthalmoscopy, Fundus examination with +90 and Hruby Lens, Gonioscopy, Applanation Tonometry, Schiotz Tonometry, Non Contact Tonometry, Automated Field Perimetry, A-Scan, Keratometry, B- Scan, Synoptophore, ND. Yag Laser, Green Laser and Double Laser Treatment, Fluorescein Angiography (FFA-Digital) etc.
OUTREACH CAMPS
With intention to extend its quality eye care benefits to the remote rural areas, the hospital has been organizing Outreach Eye Screening Camps throughout the year. An Outreach service team from the hospital, with the help from the local organizers, conducts eye-screening camps on given dates in different areas of the State. Normal cases are treated on the spot and prescribed glasses if necessary. The patients requiring surgeries are carried to base hospital by our own vehicles. After the required procedures they are again carried back to their respective destinations in the same way. ,
Altogether 88 Outreach Camps were conducted during the year 2005-2006 spread over the districts of Purulia, Bankura, Burdwan, Birbhum and Hooghly. A total number of 152,550 eye patients were checked, treated, prescribed glasses and the operable cases were sent for surgery at the Base Hospital at Ramchandrapur Ashram.
TRAINING, DEVELOPMENT & FUTURE PLANNING

I am pleased to let you know that we are on the threshold of transforming our Hospital into a total Eye Care Centre as per the desire of our Revd.Founder. This distinction will be achieved with the opening of Our Eye Bank & Cornea Keratoplasty Unit, the process of which is going on steadily. Other departments of Ophthalmology are functioning satisfactorily under the competent supervision of the qualified Doctors. We are going to recruit some better qualified Sr.Ophthalmologists to augment our service rendering capacity.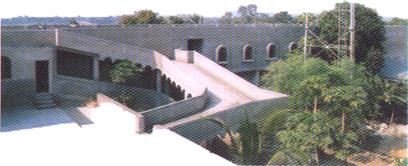 Negotiation is also underway with Health Dep't., Govt.of W.B. for the following Projects.-
a) Construction of. A Satellite Eye Hospital at our Ranabagpur Seva Kendra, Hooghly.
.
b) Setting up a Study Centre for the of Bachelor of Ophthalmic Technician Course under Indira Gandhi National Open University (IGNOU) at our Hospital. '
c) Introduction of D.N.B.Course in ophthalmology in our Hospital.
d) Designation of our Hospital as a Nursing Training Centre in Ophthalmology.
Many Ophthalffiologists are approaching us for training in SICS & Phaco-surgery and we have already Imparted training to some Doctors in this, specialty.
The construction works of the Nurses Quarter is going on as per schedule according to fund available from the MP LAD Fund sanctioned by Sri Debabrata Biswas~ Hon'ble Member of the Parliament.
NETAJI EYE HOSPITAL
PERFORMANCE REPORT FOR THE YEAR 2009-2010

EYE OPD

2009-2010

TOTAL

NEW

47178

REVIEW

60674

107852

OPD

GENERAL & EMERGENCY

312

312


OUTREACH CAMP

NO. OF ORC. CAMPS

131

ORC. CPO

16155


EYE OPD+ORC. OPD TOTAL


124007

INDOOR

ADMISSION

12188

DISCHARGE

12159
| | | | | | |
| --- | --- | --- | --- | --- | --- |
| SURGERY | FREE | PAYING | TOTAL | ORC | TOTAL |
| TOTAL | 7163 | 1809 | 8972 | 2610 | 11582 |
HOMOEOPATHY: 9959
PATHOLOGICAL: 7632
DENTAL: 410
X-RAY: 516